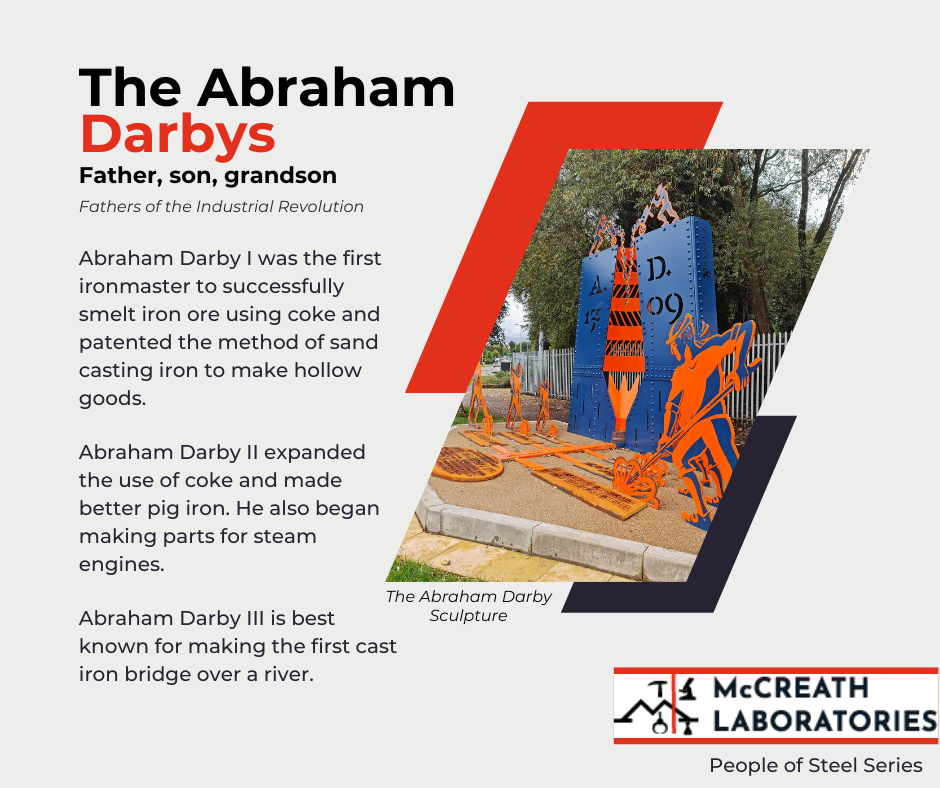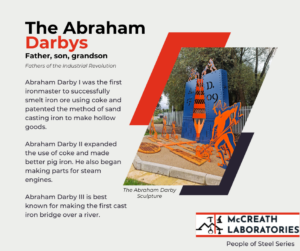 The Abraham Darbys
First ironmaster to successfully smelt iron ore with coke
father (late 1700s-late 1710s), son (late 1750s-early 1760s), grandson (late 1760s-early 1790s)
Abraham Darby's family was considered among the fathers of the Industrial Revolution with their roles in ironmaking and the subsequent role it played in railroading. Abraham Darby I, also known as Abraham Darby the Elder, began as a malt mill maker before moving into brass making. As a brassmaker, he founded the world's first metallurgy lab at the Baptist Mills Brassworks. Through his experimentation with brass and further into iron, Darby I became the first ironmaster to successfully run a long-term coke-fueled blast furnace. The higher quality iron that came from this furnace allowed for his development, and patent, of a sand-casting method for making higher quality, cheaper cast iron hollowwares at a cheaper price than brass goods, bringing these items to the lower class. He began the Coalbrookdale Company that produced goods for generations.
Abraham Darby II, also known as Darby the Younger, created a system that used a steam engine to recycle the water used in the furnaces. He also innovated the use of steel wheels and iron rails on the carriages that packhorses used to haul materials to the ironworks, decreasing how often these needed to be replaced. Darby the Younger led the company in using iron to replace brass cylinders for the railroad industry.
Abraham Darby III helped design and finance the first cast iron bridge in the world, which still stands in Shropshire, England.
All three Darbys were considered good employers with schools and housing for their workers' families. They paid higher wages than surrounding industries. During food shortages, Abraham Darby III bought farms and grew food for his employees.
Together, they were at the forefront of the Industrial Revolution in England. Their inventions and methods led to the expansion of railroads, bringing affordable goods to both the wealthy and poor, elevating life for all.
Sources:
https://www.britannica.com/biography/Abraham-Darby
https://en.wikipedia.org/wiki/Abraham_Darby_I
https://intriguing-history.com/three-abraham-darbys/
https://www.encyclopedia.com/people/history/british-and-irish-history-biographies/abraham-darby
https://www.thoughtco.com/abraham-darby-1991324
https://www.quakersintheworld.org/quakers-in-action/271/The-Darby-Family
https://www.erih.net/how-it-started/stories-about-people-biographies/biography/darby-1
https://www.ironbridge.org.uk/about-us/industrial-revolution-characters/
http://www.madehow.com/inventorbios/2/Abraham-Darby.html
https://www.bbc.com/news/uk-england-shropshire-17826650
https://wikisummaries.org/darby-invents-coke-smelting/
https://en.wikipedia.org/wiki/Coalbrookdale#Industrial_Revolution
https://en.wikipedia.org/wiki/The_Iron_Bridge